acasa 🏡 student bill splitting 👌
Internet, electric, gas, water all set up in less than 3 minutes at NO extra cost.
Set up your student bills package and bill management for your next tenancy now, and from the moment you move in we instantly will split, track and manage everything – so you do not have to worry about a thing.
Set up your bills in three minutes
1 Get a free quote
2 Invite your housemates
Bills will automatically be split so you'll only ever pay your share.
3 Download the app
Get notified, see when bills are due and who owes what.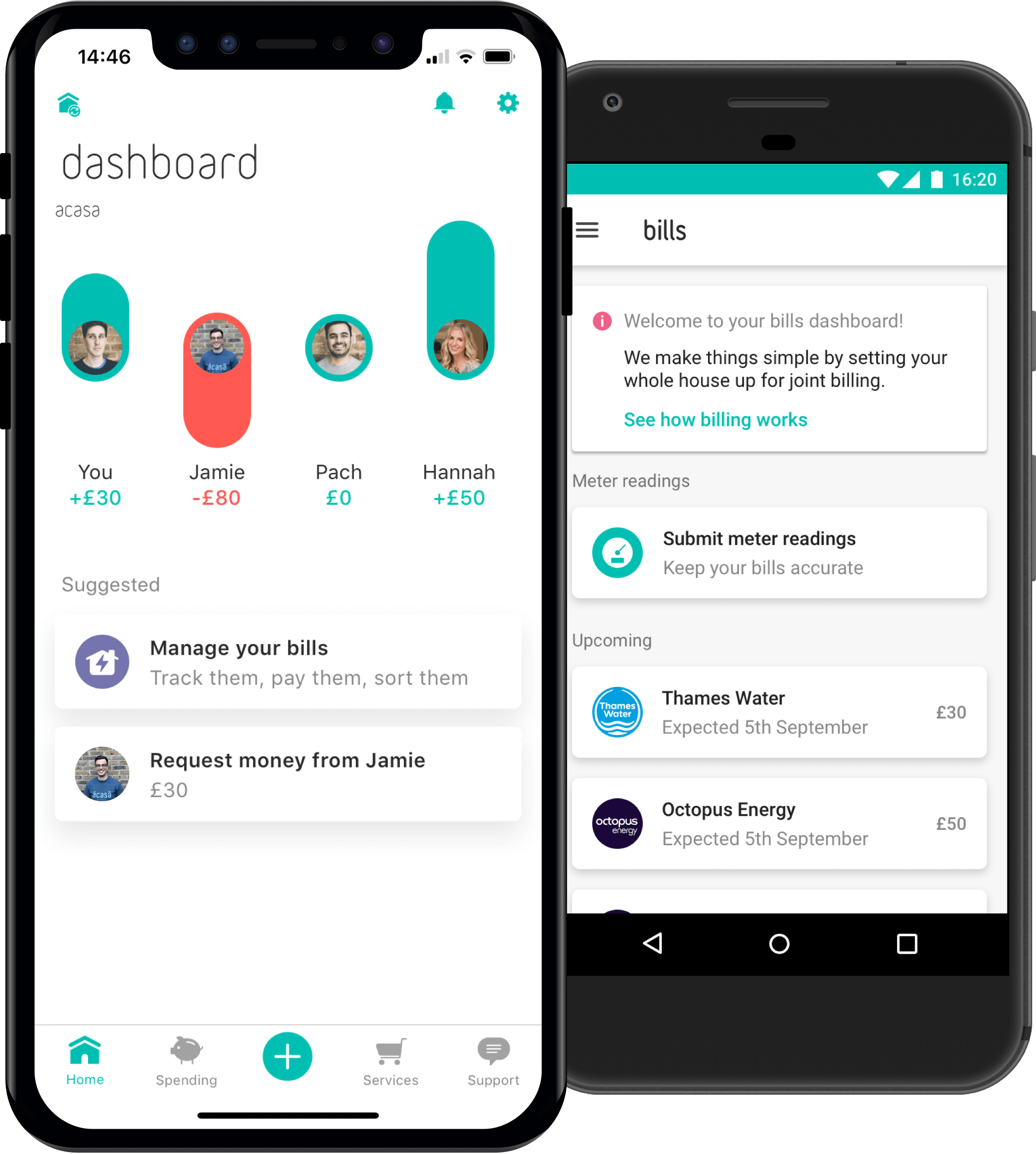 Stay in control
Choose from energy, internet, water and TV Licence. Get instant notifications and see all the info in app.
One monthly payment
We make sure all housemates pay their share of bills automatically each month. Zero stress.
Beyond your bills
No more angry texts about who used the milk - split any house costs and settle up in seconds.
"acasa makes life so much easier. My housemates and I have used it since moving in in September and makes it so much fairer. Would highly recommend!"
Lily - uses acasa in her uni house
"acasa helps us to live together in peace. We don't need to worry about who paid more or less, just simply add every cost in the app and it will figure it out for us."
Levy - uses acasa with his housemate
"acasa is totally great!! I can't imagine the arguments we've avoided thanks to this nifty app – no household is complete without it!"
Owen - uses acasa with his housemates
Get the app
The acasa app lets you stay on top of your bills, split anything from milk to Netflix and settle up with your housemates in seconds.
100% green
With acasa, your energy comes from Octopus Energy, an award winning supplier who generates 100% green electricity. Sweet.
Here to help
Our great team is available over email, phone and live chat to help with setting up and sorting out your bills and payments.
Sharing a house as a student can provide the basis for some of your best memories, but it can also give rise to your first feuds over bills and other household costs. Being a responsible adult for the first time isn't easy with everyone learning to stay on top of their budget. When it comes to managing bills and payments, students need all the help they can get.
Say hello to the best housemate you'll ever have. acasa is a student bill splitting app that can make this learning curve less of an uphill battle and more of a straightforward path to house-sharing harmony.
The acasa app gives everyone full transparency about the house bills to avoid the kind of confusion and miscommunications that give rise to household tensions. Our system can easily be arranged before you move into your student digs, so everything is set up from the go and you can start with the same top notch organisation you mean to go on with. Our student bill splitting package makes everything easier from day one!
Student housing may be a fairly unique arrangement, but it still comes with the same stress of paying multiple bills in order to keep everything running. Apart from council tax, students pay all the same bills as an ordinary tenant, usually including: electricity, gas, water, TV License and broadband.
This is where acasa really makes a difference. With acasa, you can set up a student utility bills package in minutes and split it between you and your housemates. This will allow you to manage your household costs in one monthly payment, as opposed to several small payments coming out of your account at once.
Anyone who has been a student knows that your household costs, and the potential for them to cause disagreements, come from more than just utility bills. As well as splitting the costs of your gas, electricity, water and more, acasa works to help you divide up everyone's share of rent, groceries and nights out to establish fairness in all walks of your life as students.
acasa's dashboard helps keep everyone up to date with upcoming bills, overdue balances and is totally transparent – meaning that your housemates will be able to see if you miss a payment. The app is also flexible enough to allow students to choose how they would like to split their student bills, whether that's evenly or by usage.
get a free quote from acasa
acasa is designed for anyone sharing a house, from students to young professionals to couples.
With acasa, you can avoid unnecessary conflict around splitting bills with our direct billing and balance tracking systems.
Get a free quote for your property and enjoy a more stress-free approach to managing your shared house.