all your 🏡 bills in one app 👌
Internet, electric, gas, water all set up in less than 3 minutes at NO extra cost.
Set up now for your next tenancy and from the moment you move in we instantly will split, track and manage everything – so you do not have to worry about a thing.
By putting in your email, you agree to receive emails from us about the products and services we offer.
You won't receive emails from any third parties and you can unsubscribe at any time. See our T&Cs here.
No extra fees. Just pay your bills; acasa is free to use!
all your bills in one app at no extra cost
Set up in 3 minutes
Internet, electricity, gas, water
No extra fees
We don't charge you to use us
Hassle-free
Split, track and share house costs
Save money
Homes save £100s each year with acasa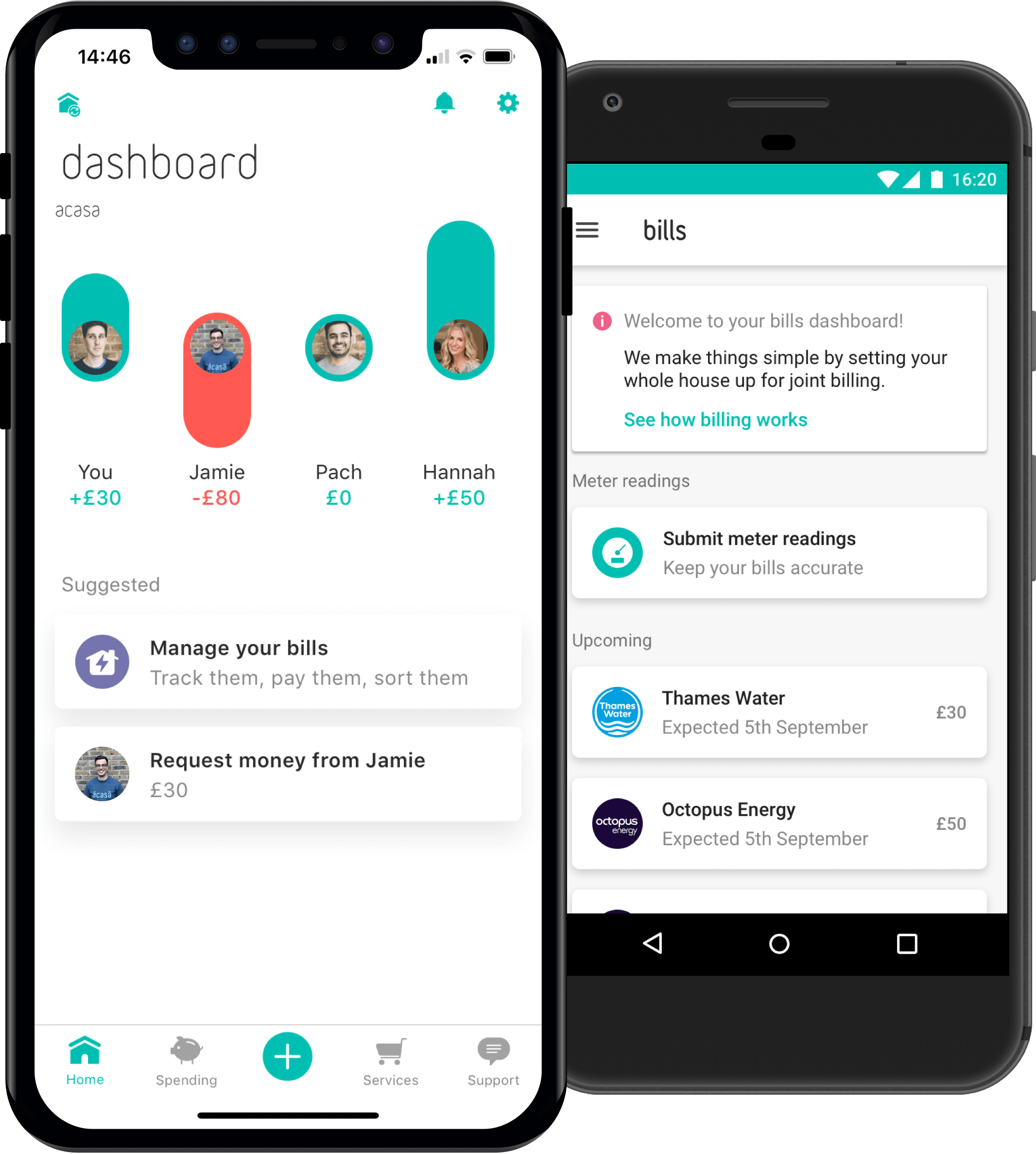 We're the 'bills person' for your house
You normally spend 8 days a year dealing with multiple household bills and providers. We do that for you, so that you can all get back to enjoying your home, not managing it.
An acasa home is a happy home
Don't let finances get in the way of a happy home - acasa keeps track of everything for you so you save time, effort & any potential awkwardness around payments.
Clarity for your uni house
With the acasa app, you'll never be caught out by a bill again, with full transparency over when things are due and who has to pay.
join the 140,000 homes using acasa
acasa is totally great!! I can't imagine the arguments we've avoided thanks to this nifty app – no household is complete without it!
Owen
uses acasa with his housemates
acasa has been a huge help in our household. We just had our first child and the bills have been coming in left and right. My fiancée and I try to split everything 50/50 so this app has been fantastic helping us do that. This app is great. We love it!!
Kevin
uses acasa with his fiancée
acasa makes life so much easier. My housemates and I have used it since moving in in September and makes it so much fairer. Would highly recommend
Lily
uses acasa in her uni house
Simple, secure payments
Setting up your payments is easy - just add a Direct Debit (or bank card) and we'll take care of the rest. No sensitive data stays with us - it's only handled by our payments processor who is fully PCI-DSS compliant.